The possible judgement day was a big thing around the news networks, as well as the internet. Many followers of that guy (I don't recall the name and I don't care) that made a "mathematical" equation out of the bible that predicted that the world would have been ended last Saturday are now standing confused.The world obviously didn't end.
It looks like the Allmighty didn't wipe the sinners while taking the good guys in Heaven. Some people were actually believing in all this and sold all their fortune and spend the money afterwards to publicise the story, as if sinners would atone for their sins in a few days.
People in the media are trying to approach this matter without offending the believers who are now perplexed and depressed that the world didn't happen to be destroyed. As a mainstream media spokesperson said "it's easy to kick a puppy, but why would you do that? Just don't make fun of them."
You know what? Screw that. That argument is stupid, the guy who created the whole thing is stupid and the moronic nature of his believers is evident. Also, a puppy won't put out shitty predictions or play with people's hopes and fears just because it wanted to be in the spotlight for a bit,nor it believed that the world would end tomorrow because some pastor stated it.
By the way, for your knowlege, the end-of-the-world theories statistically show that the world ends every three or four years average. None of them confirmed to be true even if the world would end any day now.
So, what keeps god from ending us right now? Here are five possible reasons that Saturday Night Judgement didn't happen.
1. The god forgot
God is afraid of nobody. He's self employed, and he created the world himself at his own leisure. Thus, he can cut some slack to himself without being afraid of being fired. Even if his profession would meet a crisis, having a CV that states his experience as god could get him into many high profile jobs. So god forgot. I don't know what he was doing. He was probably playing some videogames or he was busy screwing another spieces from another planet. Who knows (or cares).
2. The god wants to punish us, for real.
By leaving the world intact, god truly punishes mankind. Today's society is not exactly the best place to be. Misanthropy has become a "viable point of view", the human life and nature have no real value and money rules the money that rules the world. It really is a massive punishment to let this world be. But, at least we could get some Whores and Vodka, or some really unhealthy but delicious junk food and die in pain after getting a cardio-vascular disease or cancer. Also, work. We can die as the slaves we all dreamed to be. Nicely played, god…
3. Most people would go to Hell instead of Heaven
Coming from number 2, everybody has sinned. Most of us don't even care about it as long as it's not getting us into trouble with the law. Also, the general rules of the Christian belief as a whole, are damn outdated and downright pretentious. So, in the end, most of us will end up to Hell. Not to count the massive numbers of Muslims and various other people from other religions that would end down there. Hell sounds a hell lot like a party.
So god probably decided to postpone the Judgement Day because there will be nobody to Judge. Most likely everybody will end up in the layers of Hell. So, until descent people appear, there's no ending of this world.
4. No convenient way to reach heaven
Escalators… hmm. nobody makes them reach THAT High. Stairs? Nobody would want to climb them! Elevators. What about the claustophobics? Also, they break way too easily, so, yeah.
Nowadays supernatural events don't happen, except for ghosts, spirits and other people who somehow weren't either in Hell or Heaven. That's what it sells in modern times! So God probably haven't found a solution to satisfy all the descent guys who deserve heaven without dying. Thus, since he is not in a hurry (remember? He's self employed) he simply postponed the project for further reaserch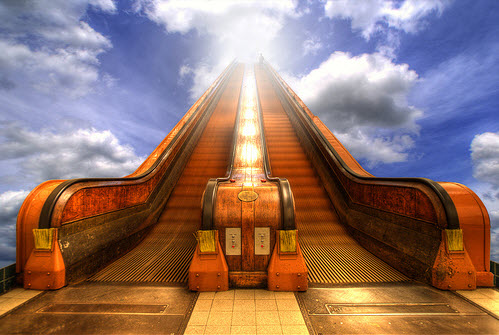 5. He is out of destruction ideas
Sure, a meteorite that could cut earth into half would do the trick, but it's not that imaginative. Earthquakes are scary and destructive but people tend to survive. Poisonous gasses from volcano eruptions are also a possible scenario but the western societies, that have developed technology and are the most sinful, would survive, so it beats the purpose. Dynosaurs would have been awesome but with a world where 4Chan exists, it won't look any different than a children's party. So, God, since he's almighty, has to think of a way to wipe us all with an effective and stylish way. So, rapture can wait since a prestigious solution from god has not found yet.
Unlockment Achieved for me messing with God. I just got a ticket for the deepest layers of hell. Before we meet in there, can you think of any other reasons the Rapture failed last Saturday?